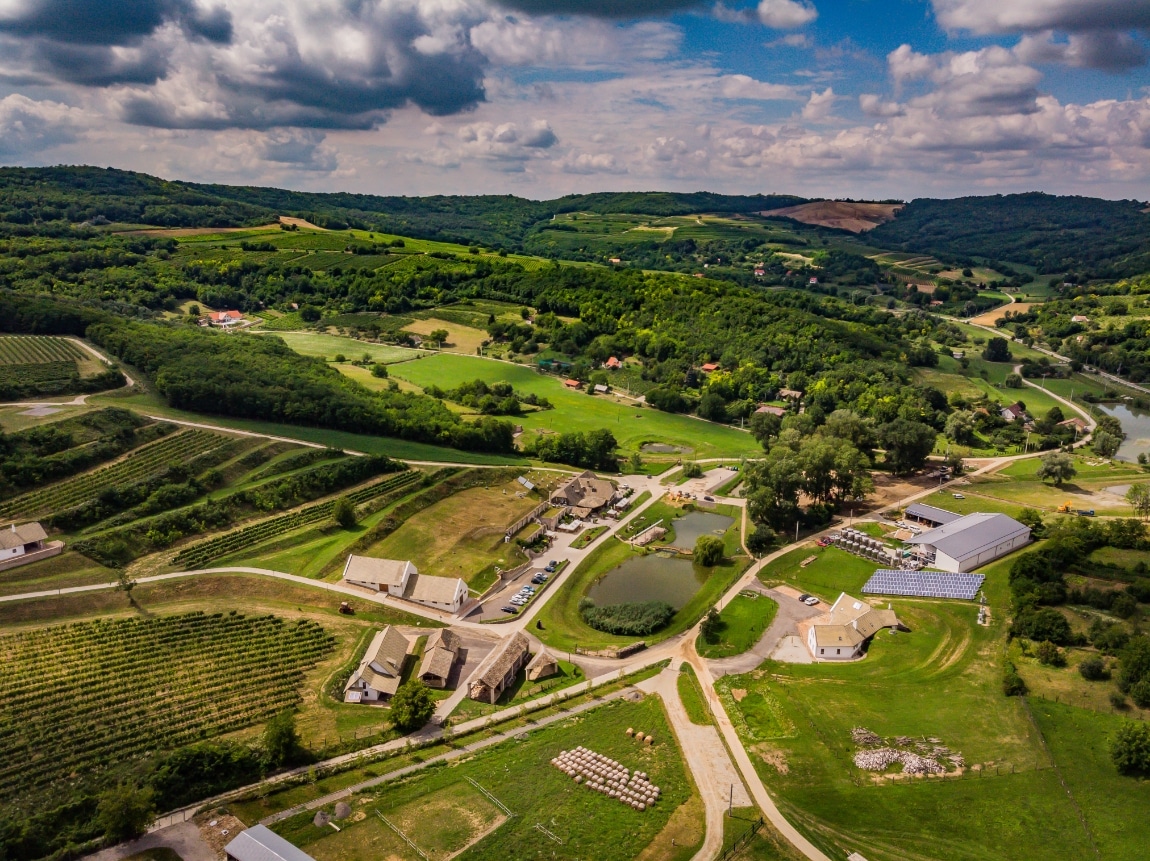 The Bodri winery, which is also a wine tourism complex, is awaiting its guests just within the southern confines of Szekszárd, in a picturesque valley.
We began building the estate in 1999, on lands characterised by wood and parkland, neglected vineyards, ramshackle press-houses and gardens. The first five-hectare vineyard was planted in 2001, and it had grown to eleven hectares within a few years. The old ageing cellar was built in 2002, and in 2003 it was followed by the processing plant and the building which today houses the restaurant. Our grand cellar, with its twelve cupolas, was built between 2008 and 2011, has become the largest newly-built cupola-structured cellar in Middle Europe. The year 2011 also saw the start of reshaping the guesthouses where 65 of our guests can relax at a time, after a night-long wine tasting. The next large-scale development was building the 1400-square metre Rosé winery in 2014, which made it possible to produce excellent quality wines in large quantities.
Besides producing award-winning wines, we also place great emphasis on gastronomic services. We are very proud of our Optimus Restaurant, which under the command of Chef Norbert Makk has achieved fame and importance in Hungarian gastronomy.
More about the restaurant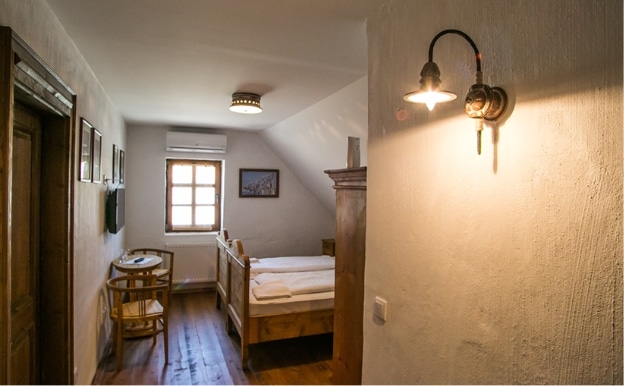 The stylishly furnished guest rooms of the Bodri Estate can accommodate 61 people simultaneously, who can relax and enjoy the tranquillity while staying close to nature on our romantic estate. An underground Roman bath with thermal water and a cupola overhead, as well as a jacuzzi and a sauna serve the comfort of our guests.
Our 300-square-metre ageing cellar was built by using 80 000 bricks in 2002. This tunnel of the cellar is closed to the public except during cellar tours because this is where our premium wines are ageing, and in the secret cellar tunnels we operate wine safe deposits.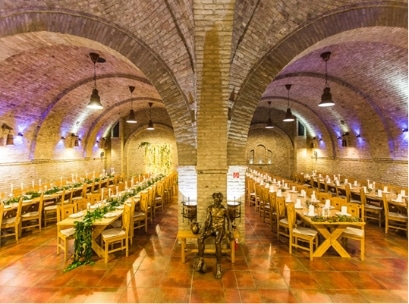 The 1800 square-metre cellar was constructed from approximately half a million rustic bricks. Twelve cupolas make its interior diverse and cosy whose ceiling height and width are both seven metres.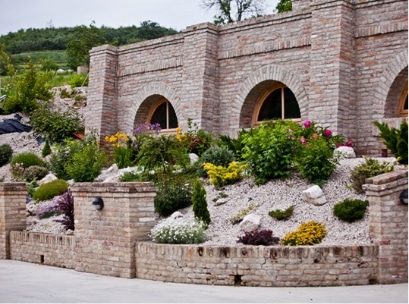 Our wine cellar and the Optimus Restaurant were made of used bricks reminding us to the colour and warmth of the Szekszárd loess, roof and the fence of the covered terrace, as well as the bridge over the pond is made of rustic timberwork. Each guest area is characterised by a low-key, tasteful rustic style dominated by wood, and it is in complete harmony with the overall exterior. This style deliberately suggests that here, in Faluhely (which literally translates as village place) we are actually in the country…
Currently, our own productive vineyard stretches on an area of 140 hectares, but several more hectares of vineyards operating in an integrated fashion are added to it. The largest of which can be found in Bátaszék, 11 hectares are in Faluhely dűlő with eastern – north-eastern exposure, 16 hectares are in the Gurovica dűlő facing south, and an additional 3 hectares are in Csötönyi Valley, Gesztenyés and Iván Valley in the form of small plantations.
Normally, 4000-5500 vine-stocks were planted on each hectare, and, in general, two forms of training: one of the cordon of medium height and cane-pruned cordon training were applied. In the case of Kadarka, we also use the traditional method (training without support) but only in a small percentage. The load is quite varied: in the premium and super-premium categories, we take good care of having only a single bunch per shoot, but we tend not to overload the plantations producing our base wines either.
The vineyards can be found in blocks, which makes the annual work phases much more manageable, and it is also cost-effective. A draining system was built up among the vineyards which not only makes transportation, spraying and harvesting much easier, but it also solves the issue of drainage in a way that at the same time it prevents the erosion of the loess soil. Besides, we are trying to prevent the erosion of the steep brae with a supporting wall system, which means high-level protection of the soil. And the micro-terraces that were created this way ensure an even higher standard of viticulture.
We are continuously planting and renewing our plantations. There are 3 hectares of older plantations in Csötönyi Valley and Gesztenyés; they are mostly 30-35 years old. There is also a small piece of Kadarka that consists of 80-year-old vine-stocks. The latter is nicely maintained rather dense plantations. István Bodri Sr., aka Bodri Papa, makes sure continuously, that they are always in an immaculate condition.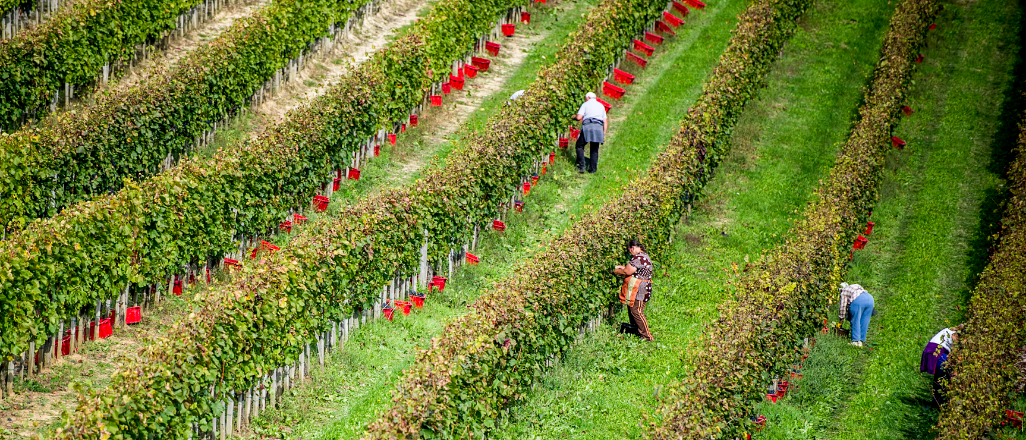 Gurovica
Like every winery, we also have our favourite vineyard. Ours is Gurovica, which most
Recently has provided the base wines of our premium wines. It was in 2007 when we planted the first 16-hectare vine-stocks. The abilities of the terroir were not unfamiliar to us as István Bodri's grandfather had had some land here. This cru is very impressive; It contains red and grey clay, and it is very rich in loess and lime. The most remarkable thing in this soil composition is, however, the excellent water-retention capacity of clay. This way, the roots of the vine can always get some water, and there are no severe effects of drought even during the hottest summers. There is Kadarka, Kékfrankos (Blue Frankish), Cabernet Franc, Cabernet Sauvignon, Merlot, a small quantity of Rhein Riesling, together with some Syrah there. The different raw materials are processed separately and are sold as vineyard specific batches of wine. Our Merlot 2009 began this line of production. Merlot 2011 and 2013 were bottled in a similar fashion, followed by the Cabernet Sauvignon 2012 and the Gurovica Kékfrankos Selection 2013; but this vineyard has also given some varieties to our winery's No.1 blend.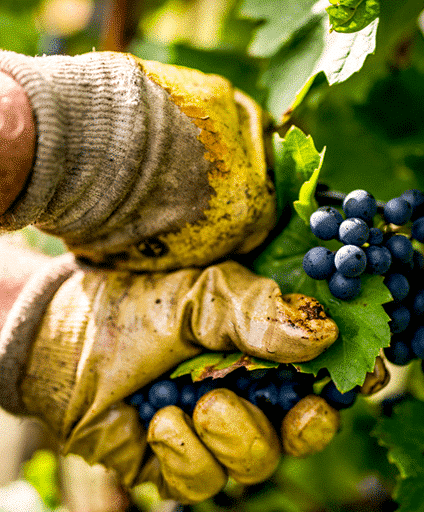 FALUHELY
In the Faluhely vineyard, there are Welsh Riesling, Sauvignon Blanc, Kadarka, Kékfrankos, Pinot Noir, Cabernet Franc, Cabernet Sauvignon and Merlot grape varieties. Some of them are sold as vineyard selected batches of wines; the rest is used for blends. The soil composition in Faluhely is very similar to the one in Gurovica, but due to its exposure, the wines produced here have different characteristics. The eastern parts are dried by the sun early in the morning, and therefore, plant protection is more convenient. Because of the direction of the vine rows, the land is not exposed to the direct and intense afternoon sun, which may prolong the ripening period. Later harvests produce a phenolic ripeness of grapes, although the early grape varieties grow just as well in the cru. Wines originating from here exhibit a rather unique acidity which suits well both the crisp white wine varieties and the fresh rosés. Acidity can also give our Bull's Blood a pleasant attitude and an acidic spine.
BÁTASZÉK
In our 100-hectare Bátaszék vineyard, there are Merlot, Malbec, Cabernet Sauvignon, Cabernet Franc, Kékfrankos, Welsh Riesling and Chardonnay grape varieties. The age of the Bátaszék plantations is optimal; the oldest vines were planted in 1999, while the youngest ones are from 2004. Three blocks make up the whole vineyard, each of them can be found on an open, sunny and airy hilltop. Half of the area is Merlot because this varietal has always played an important role in the life of our winery as it is an excellent raw material for rosé wines, it shows well in Bull's Blood, and it makes good premium wines. Thanks to the lands in Bátaszék, we no longer need to purchase grapes – unlike in the early years. Having our own grapes in such large quantities gives us a 'carte blanche' to produce various base- and selection wines.
NEW PLANTATIONS
Last year and this year as well we implemented several new vine-stock plantings. These areas are not too big, but they have very interesting and varied terroirs. In the case of Kékfrankos, we planted clones of Austrian origin on half a hectare in the eastern part of the Faluhely vineyard, which is a little cooler due to its exposure. We hope that it will make our cru selected wines a bit more tense by blending it with the wine from the existing Kékfrankos vine-stocks.
On the "Tölgyfás terasz" (i.e. Oak terrace) in Faluhely, named after the two 50-60-metre tall oak trees in the middle of it, we have planted Sauvignon Blanc vine-stocks on an area of one hectare. This plantation faces west; thus, owing to the direction of the rows, it is never exposed to direct sunlight.
Another 0.3 hectares of Sauvignon Blanc vines were planted opposite the cellar, on a land that had never seen vine-stocks before. It has a slightly different locality: it is more exposed to wind; the sun can reach this area later during the day, but the exposure lasts more prolonged than in the other plantation, and it never gets direct sunshine either because of the direction of the rows. In the case of Sauvignon Blanc, it is paramount not to have the clusters exposed to direct sunshine, in fact, if it is possible, and the vintage allows it, the grapes should ripen under the leaves.
Within the boundaries of Faluhely, Cabernet Sauvignon was planted to the highest point, near the truffle plantation. It has very high cooling degree days; it is probably the place on the estate where the sun sets the latest on any day. We are very much looking forward to seeing the grapes grown here.
Syrah can be found on the top of the Gurovica vineyard, on a quite warm and sunny area. A little less than half a hectare was planted of it with high vine-stock density in rows facing south. There are such steep parts here that it was impossible to form a single large contiguous terrace, and therefore, we created some smaller micro-terraces comprising only a few rows. We also took great care when selecting the clones. We chose a less sensitive grape variety with smaller berries and thicker skin. As it loves the hot climate and it actually shows its most beautiful face in such vintages, we decided to plant Syrah on the warmest place within Gurovica.
During ameliorations, the soil stratification in the area was clearly visible; how thick loess and red clay layers were, and what sort of calcic layer was there underneath. Thus, when deciding on the grape varieties, we preferred the one with strong lime-tolerance and whose vitality would start growing in a relatively short period with high intensity while its roots would develop faster, too. We trust it will become a valuable cru as well, providing us with a smaller yield but of premium quality.

Variety assortment
53 hectares of Merlot (Faluhely, Gurovica, Csötönyi Valley, Bátaszék-Középhegy, Bátaszék-Svábhegy, Bátaszék-Leperd)
It is a world-famous, very popular variety, originally from Bordeaux. It has found a new home in the Szekszárd wine region with outstanding productive properties. It inheres high potentials, as besides the more easily formulated basic type it is able to give a deeper, fuller truly serious red wines by yield regulation. Characteristics: deep, ruby red colour, intense aroma, harmonic acidity and velvetiness.
30 hectares of Kékfrankos (Blue Frankish) (Faluhely, Gurovica, Csötönyi Valley, Gesztenyés, Bátaszék-Középhegy, Bátaszék-Svábhegy)
Kékfrankos is one of our most important grape variety, as it produces excellent rosés, is a first-rate row material for base wines, complex and suitable for blending. Therefore, it can be used for producing concentrated premium products. Its velvetiness, spiciness, and the intensive aroma so typical of the variety prove that the Kékfrankos repays the excellent production area with an amazing quality. It reflects and mediates the terroir perfectly and bears high potentials. Grapes processed with adequate yield regulation, in perfect circumstances for fermentation, and well-chosen barrels result in a real speciality. Among other things, this is why Kékfrankos is in the centre of the variety structure of the Bodri Winery. This wine might as well be considered a Hungaricum whose development in the Szekszárd wine region is analysed during the annual varietal wine tasting on the Bodri Estate.
21 hectares of Cabernet Sauvignon (Faluhely, Gurovica, Csötönyi-Valley, Bátaszék-Középhegy, Bátaszék-Svábhegy)
Typically, Cabernet Sauvignon gives an excellent red wine in our vineyards. It is bottled individually both as a basic wine and as premium wine but is also a vital element of the cuvées. The red wine it produces has a characteristic appearance, an intense fruity flavour, nice acidity, and it is racy and rich in tannin.
8.5 hectares of Cabernet Franc (Faluhely, Gurovica, Bátaszék-Középhegy, Bátaszék-Leperd)
In some vintages, the Cabernet Franc shows better in the Szekszárd terroir than the Cabernet Sauvignon. Its yield is regulated, and high-quality wine is made of it. The grapes are fermented our a state-of-the-art Taucher-tank, which was particularly made for producing such batches of wines, then the wine is aged in small oak barrels for several months.
3 hectares of Sauvignon Blanc (Faluhely)
This originally French grape variety shows a rather unique face in Faluhely. It feels fine on the loess soil. Currently, there are two different styles of Sauvignon Blanc produced by the winery: the fresh Blanka and the oak-aged premium wine from the Faluhely vineyard. Two grape varieties are used for the wines: one variety has a must with high sugar degree, a mild acidic spine and it was harvested later; the other grape variety comes from an early harvest with higher acid content. Thus, one style produces a softer character and a thicker body, while the other showcases a crisp, fruity aroma. They are processed and fermented separately.
The optimally chosen time of the harvest, cluster selection and the normally 12-month-long ageing process in 500-litre wooden barrels make our vineyard-selected wine unique. With its savoury notes and vivid acidity, the Sauvignon Blanc can illustrate the nature of Faluhely very well.
For being a versatile grape variety, the Sauvignon Blanc not only the types mentioned above of wines are made of it, but there is also a transition between the two. Our new plantations are to prepare the foundations of such wine, so in a few years' time, this plan may be realized, too.
2 hectares of Kadarka (Faluhely, Gurovica, Csötönyi Valley, Iván Valley)
Kadarka again has a central role in Szekszárd. Today, we may even pronounce that Kadarkas with the most varietal flavour, colour and the deepest tone are mainly produced here. The varietal is hugely complex, some formulations of it even exhibit the notes of a great wine, and, in excellent vintages, it is a real speciality in the wine region. Owing to yield regulation, modern fermentation technology and ageing in premium quality casks, Bodri Kadarka grapes give a ruby red, medium-bodied, fruity wine with a spicy aroma.
The following varieties can also be found in our vineyards:
6.3 hectares of Portugieser (Gesztenyés dűlő, Bátaszék-Középhegy)
4.0 hectares of Malbec (Bátaszék-Középhegy)
3.3 hectares of Chardonnay (Csötönyi Valley, Bátaszék- Leperd)
3.0 hectares of Olaszrizling (Faluhely, Csötönyi Valley, Bátaszék-Leperd)
0.5 hectares of Pinot Noir (Faluhely)
0.3 hectares of Rajnai Rizling (Gurovica)
0.3 hectares of Müller-Thurgau, aka Riesling Sylvaner (Csötönyi Valley)
AFTER THE HARVEST
Grape processing and fermentation are both conducted in controlled conditions. Our tanks have double insulation all along their sides, so they have a larger surface area through which the optimal temperature can be set, and it also ensures that the tank is kept at the desired temperature longer. The tanks are equipped with a protective gas system with a high-efficiency temperature control possibility. Since must has a short route to take, we can radically reduce its contact with oxygen. We have a well-functioning, state-of-the-art hydraulic receiving hopper, which enables grape berries to travel gently into the stemmer. Therefore, nothing could crush the berries prematurely. The stemmer is operated in a conventional way; we can decide whether we want to crush the berries or not.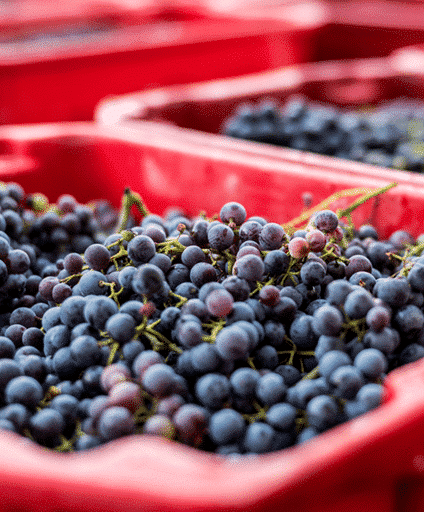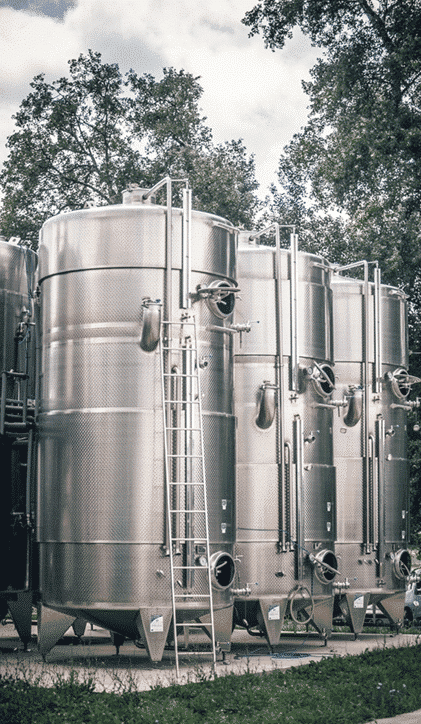 PRESSES
They are state-of-the-art pneumatic presses, capable of performing gentle pressing in a closed system. With the help of the protective gases, pressing is also completely oxygen-free.
Certainly, not in our premium vineyards but otherwise, our long-term goal is, which was already considered during the building of the winery, that when it comes to harvesting by machine, processing the grapes should work perfectly on this line. In some cases of rosé and white wines, mechanical harvesting can be more rewarding because unlike in the case of manual picking, grapes can be harvested much earlier and faster, and it also promotes speedy processing.
WINE PROCESSING PLANT
When building the plant, we kept in mind that bottling should be performed safely and effectively as well as to be able to work with a high capacity and the possibly least movement of wines. Since the premises are close to each other, from the finished wine to bottling, wines move on a short route on a semi-automatic production line in order to minimise oxygen intake, as it is important not only during the harvest but also in the case of certain wines, during their entire shelf-life.
ÉRLELÉS, TÁROLÁS
A palackérlelést nem igénylő borokat, amik csavarzárral vannak lezárva, azonnal címkézzük. Tárolásuk egy erre kialakított, temperált készáru raktárban történik, ami szintén az üzem egyik része és onnan folyik a kiszállítás is.
A parafa dugós borok esetében elfektetés előtt illik 24 órát állva tartani őket a megfolyás és a tökéletes palackba történő illeszkedés végett. Ezt követően az érlelésre szánt borok fémketrecekbe kerülnek, és a pincében helyezzük el őket további érlelésre. A gépsorunk egyébként alkalmas arra is, hogy a lepalackozott, érlelt borok külső mosását is végrehajtsa a címkézés előtt, hiszen ilyenkor előfordulhat koszosodás, porosodás.